Danielle  and James  Boozer, Jr.'s Wedding  
April 15, 2016 @ 5:00 PM
All arangements were made in 2015 for Danielle and Jim's Wedding!
Both Danielle& Jim and Rev. Ursula lived in Savannaha GA, but James was transferred to Alaska and Danielle joined him and in Februrary Rev. Ursula moved to Central Florida. The contract was honored by Rev. Ursula and she drove 4 1/2 Hrs  the Day of the Rehearsal to Savannah, she stayed with friends and officiated the next day!
When we first met Danielle to discuss her Savannah wedding day she was living in Savannah but was getting ready to move to …ready for this?  ALASKA!! Her fiancé Jimmy was going to be stationed there! I asked her if she was ready to leave all the warmth of Savannah behind? She said she would surely miss it but was excited for her adventures and new life in Alaska! We kept in touch throughout the year and Danielle would mail me things for her wedding day because It would be to much to bring back on the plane with her.
The day started with a 70% chance of rain for their Forsyth Park wedding at 6 pm. I  was checking my weather app on my phone all day contemplating if we had to go to plan B. It jumped to 90% and then all of a sudden a miracle happened and it dropped to 0% chance of rain!!! My rain dance (that I provided free of charge) worked!
Danielle was able to take the long stroll down the aisle at Forysth park arm in arm with her sweet dad!  Michael Houston played Canon in D on his violin as they walked. In an homage to her Oma and her German heritage she had Rev. Ursula C. Guenzel as their wedding officiant also born in Germany.
Danielle and Jimmy's reception was at the Soho South Café. It was the perfect place for their reception.  Danielle  had so many great details in her wedding reception! Starting with the cutest escort card holder I had ever seen, golden animals displayed the names of their closest friend sand families guiding them to their tables!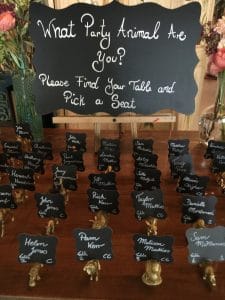 They had the most beautiful cakes, a naked cake from Baker's Pride adorned with flowers by Ivory and Beau.  From KM Cake Designs they had a cake designed in the shape of the helicopter that Jimmy flies.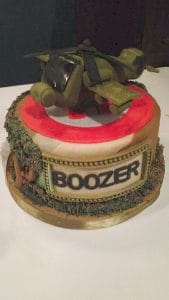 fantastic cakes
Danielle's Grandmother travelled all the Way from Frankfurt Germany to be part of this Wedding.
Awaiting the Bride
Congrats to Danielle & Jim, they are Mr. and Mrs. J Boozer, Jr.
May you both continue to have a adventures and very happy life to together!
Blessings, your Wedding Officiate Rev. Ursula C Guenzel
~~~~~~~~~~~~~~~~~~~~~~~~~~~~~~~~~~~~~~~~~~~~~~~~~~~
The Day I returned home I stopped off in Richmond Hill Georgia and officiated another Wedding! Congratulations to Carlea and Travis Temple! May you remain as happy as you were today for the rest of your lives together!
Carlea & Travis after their "I DO's"
~~~~~~~~~~~~~~~~~~~~~~~~~~~~~~~~~~~~~~~~~~~~~~
And now we Officiate in Central Florida 
~~~~~~~~~~~~~~~~~~~~~~~~~~~~~~~~~~~~~~~~~~~~~~~~